To a patient, the bustling and gathering figures around an operating table might all seem the same, but there are some very significant differences to note. A scrub nurse (known also as a perioperative nurse or an operating room nurse) is one of many healthcare professionals who will be found around that table. A scrub nurse will do a thorough surgical scrub and accompany the surgical patient and doctors into surgery. And, as their name suggests, they generally wear scrubs.
They are responsible for efficient and sterile preparation of the operating room, ensuring that all equipment is accessible and sterile, supplying this equipment to the doctor during surgery, and performing other duties both inside and outside of the operating room as required.
Where Do Scrub Nurses Work?
Though scrub nurses are generally found in hospital operating or emergency rooms, there are many opportunities for them outside of these areas as well. They can be found in any medical facility that provides surgical services, but commonly work in areas such as in in-patient operating rooms, out-patient operating rooms, recovery rooms, labor and delivery departments and ambulatory surgery centers.
Most operations and procedures are conducted during daytime hours. That being said, emergencies do happen, and scrub nurses are often called in during off-hours to assist with these emergencies when they do.
The Daily Duties Of A Scrub Nurse
Before each surgery or procedure, a scrub nurse has to "scrub in." This involves thoroughly disinfecting their hands and arms, as well as equipping sterile clothing and protective equipment. Scrub nurses have a wide and intense range of skills, and an equally wide and intense range of responsibilities, all intended to help ensure the welfare of their patients.
1.Preparing the Operating Area — By laying out all required tools and equipment for the procedure, the scrub nurse prepares the operating room or surgical site and ensures that the area is sterile.
2.Assisting With Procedures — Under the direction of the surgeon, a scrub nurse will handle tools and equipment, provide ease of accessibility to these tools and monitor the patient throughout the length of the operation.
3.Maintaining Supply Counts —  A scrub nurse will actively maintain count of supplies such as pads and sponges used throughout the procedure, communicate with circulating team members to acquire more supplies when necessary, and verify that the corresponding number has also been removed from the patient at the end of the procedure.
4.Direct Patient Care —  Both before surgery and after surgery, the scrub nurse has many multidimensional and dynamic duties involving direct patient care. These include assessing a patient, explaining procedures, pre- and post-operative care plans and monitoring conditions.
5.Taking on Other Duties as Needed — Both inside and outside of the operating room, a scrub nurse may take on various roles as needed in an RN capacity, as well as in training, supervisory, or administrative capacities.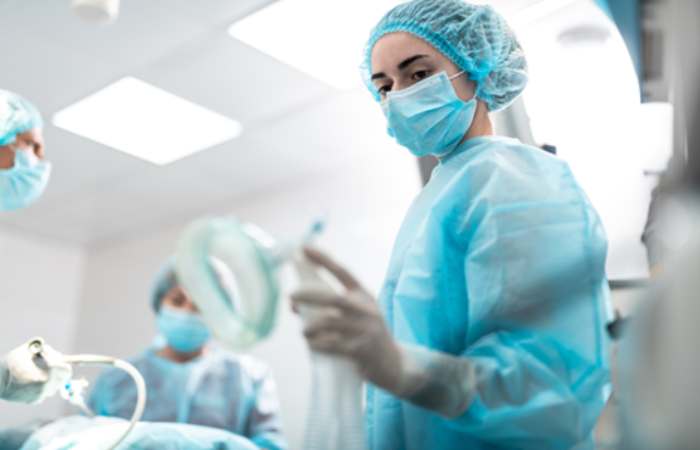 A Scrub Nurse's Most Essential Gear
Choosing the proper gear for their specific environment and role is essential for healthcare workers. As a scrub nurse, these pieces of gear and equipment can have a significant impact on performance on a daily basis
6.Scrubs, of Course! — Offering unrivaled comfort, functionality and sterilization ability, scrubs aren't just worn because they're the uniform. Not only do they offer significant benefits in terms of professional impression and functionality, but in terms of personal style expression too! As a nurse, finding cute scrubs for work is likely a go-to when shopping (even before taking care of your regular wardrobe). Luckily, scrub nurses will find that there are so many scrub sizes and styles available these days.
7.Protective Equipment — Protective equipment utilized by scrub nurses is meant to provide a way to avoid exposure to harmful substances. This is especially important in an environment such as an operating room where the risk of transmission is high. These pieces of equipment include things like medical gowns, face masks, protective glasses, hair covers, face shields, disposable gloves, and more. If you are looking nitrile gloves online, Visit Primo Dental Products.
8.Sterilizing Soaps — In addition to ensuring proper health, specialized soaps and sterilizers are utilized frequently in order to keep nurses, equipment, and patients safe.
9.Medical Bag —  Stylish and quality bags designed for nurses are essential. Being able to carry, organize and access items as efficiently as possible has an incredible impact on performance. A functional work bag for nurses offers smart organization, easy access spots, appropriate materials, quality production, and a lot of room.
10.Quality Shoes —  Comfortable and quality shoes are invaluable for any nurse. With a professional role and environment that requires frequent and long shifts of standing, walking, and lifting, many nurses experience significant foot pain and problems due to the lack of appropriate footwear.
The Path Of A Scrub Nurse
Generally, working as a scrub nurse in an operating room environment requires that you have a history in critical care nursing. For this reason, most scrub nurses — as most nurses who have specialized or advanced do — start their journey as registered nurses. From here, the most prominent role of a scrub nurse is to continue building critical care experience and working in acute care settings, as well as furthering their education to meet the required needs.
Once you've gained significant experience in the scrub nurse role, you may choose to advance further in a surgical role. An experienced scrub nurse carrying the right amount of hours, skills and knowledge has various opportunities to study and pursue paths more directly involved in conducting surgeries and procedures, such as the path of RN First Assistant to the surgeon.
The Life Of A Scrub Nurse
Scrub nurses/perioperative nurses are an essential part of the healthcare landscape. They ensure that patients are taken care of throughout every stage of the surgery or procedure's process, and hold highly specialized skills, knowledge and experience in order to do this.