Mobile Hospitals: Emergency healthcare response mechanisms across the globe are continually evolving, driven by the relentless quest for better, more efficient, and effective ways of delivering lifesaving care during times of crisis.   
One game-changing innovation in the field is the advent of mobile hospitals. Designed to bring healthcare to the doorstep of patients or disaster-stricken areas, these mobile units are transforming how emergency medical services are rendered, particularly in remote areas and during disaster situations.   
The article presents an in-depth discussion on mobile hospitals and how they're revolutionizing emergency healthcare responses. It explores their structure, benefits, technological advances, and their vital role during disaster response and in underserved communities.   
Structure and Components of Mobile Hospitals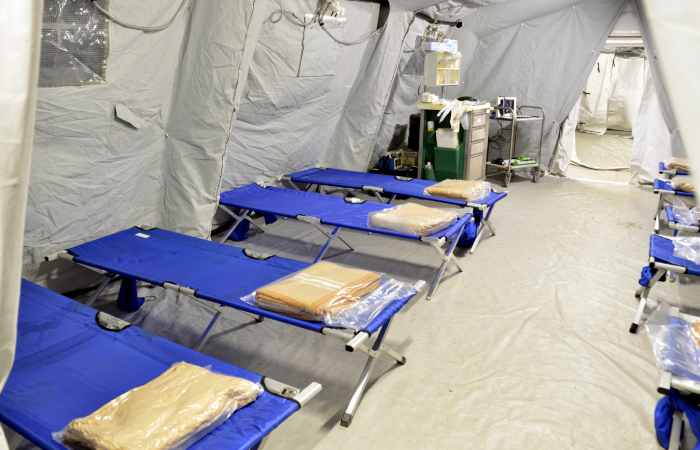 Mobile hospitals are typically housed in semi-truck trailers, buses, or other large mobile units. They're fully equipped with essential medical equipment like a standard brick-and-mortar hospital. They encompass emergency rooms, operating theaters, pharmacies, and even laboratories.   
Significantly, many modern mobile hospitals include a negative pressure isolation room. This special feature allows for treating patients with airborne diseases, like tuberculosis or COVID-19, without the risk of spreading the pathogen to others within the unit.   
Within these moving care centers, every inch of space is maximized. Storage compartments abound, housing medical supplies, equipment, and pharmaceuticals. Despite their compact size, mobile hospitals strive to offer the full range of services that patients might need in emergencies.  
Benefits of Mobile Hospitals   
In pivoting to the benefits, it's worth noting that mobile hospitals are not just about providing healthcare on wheels. They offer flexibility and convenience, particularly in regions with inadequate or non-existent medical facilities.   
Given their mobility, they can reach rural and remote areas, offering services unavailable to these communities. In disaster situations, they're invaluable. As quick-response units, they can be deployed to the affected area, providing immediate medical assistance to victims.   
Furthermore, mobile hospitals aid in decongesting traditional hospitals, especially during pandemics or disease outbreaks. They act as ancillary treatment centers, accommodating patients while reducing the burden on static healthcare facilities.   
Technological Advancements and Mobile Hospitals   
Transitioning to the realm of technology, innovations have greatly enhanced the capabilities of mobile hospitals. Many are now equipped with state-of-the-art diagnostic tools, telemedicine capabilities, electronic medical records systems, and advanced communication devices.   
With these advancements, medical staff in mobile hospitals can consult with specialists from anywhere in the world through telemedicine. This real-time communication can make a critical difference in patient outcomes, especially when dealing with complex cases.   
Moreover, electronic medical records systems ensure seamless information flow. They enable easy access to patient's medical histories, allergies, and medication information. These systems provide accurate, timely, and personalized care, even in remote settings.   
Role in Disaster Response and Mass Casualty Incidents  
In the context of disaster response and mass casualty incidents, mobile hospitals are truly indispensable. Whether responding to a natural disaster, war, or large-scale accidents, these versatile units are often the first on the scene, providing immediate medical aid.  
Furthermore, during such catastrophic events, local hospitals can quickly become overwhelmed. Mobile hospitals offer a solution, rapidly expanding medical capacity and supporting overwhelmed healthcare systems. They're capable of handling triage, stabilization, and even surgical interventions, significantly improving the survival rate of victims.  
The Impact of Mobile Hospitals on Healthcare Accessibility   
As previously mentioned, a significant advantage of mobile hospitals is their contribution to healthcare accessibility. Traditional healthcare systems are often constrained by geographical barriers, leaving many communities with insufficient medical attention. Mobile hospitals have stepped in to fill this void, fostering an inclusive healthcare environment.   
By bringing medical services to the doorsteps of underserved populations, mobile hospitals negate the need for long and often expensive commutes to city-based hospitals. They can provide regular check-ups, administer immunizations, and offer essential healthcare services such as prenatal care, dental care, and mental health support.   
Mobile Hospitals and Public Health Campaigns   
Mobile hospitals have also emerged as potent tools in public health campaigns. They're critical in promoting preventative healthcare, driving education and awareness around infectious diseases, and performing screenings for diabetes and hypertension. By facilitating early detection and treatment, they contribute to the overall wellness of communities and alleviate the burden on tertiary healthcare facilities.   
Moreover, during vaccination drives, mobile hospitals serve as important distribution hubs. They can store and administer vaccines effectively, reaching populations who would otherwise struggle to access these lifesaving shots.   
Conclusion   
Mobile hospitals have emerged as a vital pillar in the global healthcare machinery. Their unique combination of mobility, technology, including mobile workstations, and comprehensive care is revolutionizing emergency healthcare response. With their impressive adaptability and service range, they're transforming lives and health outcomes in disaster-stricken areas, rural communities, and cities where healthcare demand outpaces supply. 
Whether providing immediate trauma care after a natural disaster or administering routine health services in remote areas, mobile hospitals represent the power of innovation in healthcare. Their significant contribution to emergency healthcare provides hope for better, more accessible healthcare for all.