You may have to wear scrubs to work every day, but do you know how scrubs are supposed to fit? Unisex scrubs can make it hard to find your correct size, and their roomier fit isn't flattering on everyone. Fit is just as important in scrubs as any other piece of clothing. You need to feel comfortable and be able to move quickly while wearing your scrubs. You don't need a baggy scrub top or bottom getting in the way of your work. Instead of buying unisex styles, look for better-fitting, high-quality scrubs for women. Scrubs made for women are cut to fit and flatter a woman's body.
How Should Scrubs Fit?
Your scrubs should be loose enough to move easily while wearing them, but not so loose they get in the way of doing your job. Scrubs that are too tight may prevent a full range of motion with your arms or legs. On the other hand, scrubs that are too loose or baggy can catch on equipment and may need constant adjustment to keep you covered during the day. You need to find a happy medium between the two.
The best-fitting scrubs are the ones you feel most comfortable in. They're made of high-quality materials that stretch while you work and are durable enough to last. They allow you to get your work done in comfort and don't negatively impact your physical movement or job productivity. They flatter your body shape and make you feel confident while wearing them.
Your scrub tops should stay in place while you reach overhead and leave you enough room in the armpit and shoulder areas to move around. If your workplace tends to be cold, or you live in a climate that experiences colder winters, you may want slightly looser scrub tops so you can layer another shirt underneath. Try on and test out the fit of your scrub tops to ensure they're flattering and will work for you.
Scrub pants should fit you well too. You don't want a loose waistband that requires constant adjustment to keep your pants from falling down. Scrub pants that are too long are a tripping hazard, even if you roll or cuff the bottoms. If your scrub pants drag across the flooring, they're also a health hazard. They can pick up bacterial or viral material and transport it from room to room. You must find the right fit for your scrub pants. Your scrub pants should fit snug at your waist without digging into your skin. Look for pants with drawstrings for a more custom fit. If you have a shorter inseam, look for scrub pants in petite or short lengths.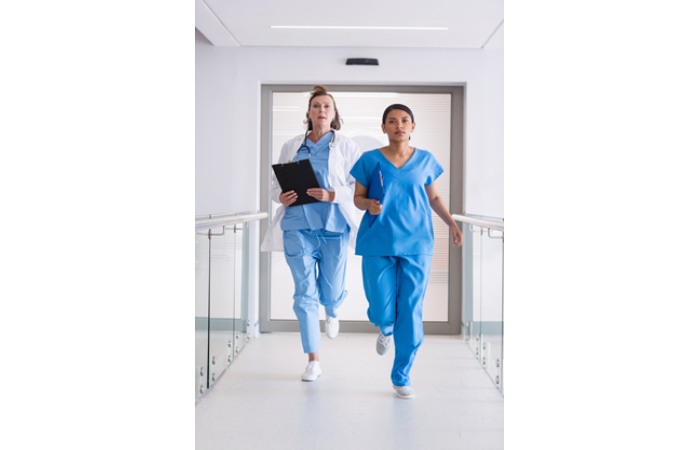 Finding Your Correct Size
Classic fit scrubs contour to your body with ease, leaving you room to move without being baggy. Contemporary scrubs contour closer to your curves and may give your shape more definition. If you're in between scrub sizes, order the bigger size for a looser fit and the smaller size for a tighter fit, depending on your preference.
You can't find the right fit for your scrubs without knowing how to properly measure yourself first. You need to measure your bust and waist sizes for scrub tops and your waist, hips and inseam for scrub pants. Taking your measurements is easy. Ideally, you'll measure yourself in just your underwear, but you can take measurements over tight-fitting clothing as well. All you need is a tape measure, a mirror and something to record your measurements with. Taking your measurements in front of a mirror ensures you're placing the tape measure in the right spot. For the most accurate sizing, you want the tape measure to feel snug against your skin without digging in.
Bust: To measure your bust, lift your arms and place the tape measure underneath them. Wrap the tape measure around the fullest part of your chest.
Waist: Your waist size is measured at the thinnest part of your torso, called your natural waist. Hold the tape measure loose because this is the way you want your scrubs to fit.
Hips: Hip measurements should be taken at the fullest part of your hips while your feet are together.
Inseam: Find your inseam by measuring the inside of your leg from your crotch to one inch below your ankle.
Selecting Your Style
Scrubs for women come in many styles to choose from. No matter your preferences, you'll be able to find something you love that flatters your shape. Necklines for scrub tops come in more than just short-sleeved v-necks styles. You can find round neck tops, scrub tops designed to be tucked in, zip-up tops and long-sleeve under-scrub tops that are perfect for layering in the colder months. You can also find women's scrub tops with pockets to help carry around your medical accessories.
Women's scrubs have many pant leg styles to choose from. Whether you like straight legs, flared, tapered or a more modern skinny leg or jogger-style pants, you can find a leg style that suits your shape best. Scrub pants for women are also available in different rises so that you can find your most flattering fit. Choose from low-rise pants that sit well below your waist, mid-rise pants that sit just below your natural waistline, natural rise pants that sit at your waist, and high-rise pants that sit above your waist.
Medical settings tend to run cold. Instead of putting on layers under your scrubs that aren't easy to take off when you get warm, wear scrub jackets instead. Made of the same high-quality material as your tops and bottoms, a scrub jacket matches your outfit and allows for quick removal if you start feeling too warm.
You can find many styles of scrub jackets to choose from, including casual zip-up and hoodies jackets to professional-looking cardigans. Scrubs are available in various colors, designs and fits so they can match your personality and sense of style.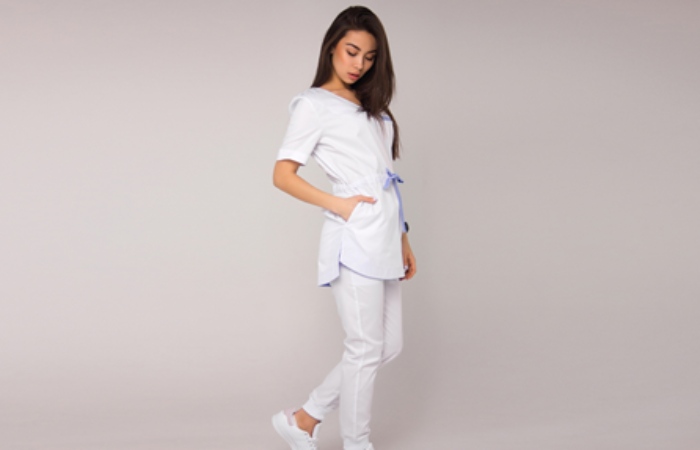 Find Great-Fitting Women's Scrubs
Wearing scrubs that feel good and fit you well makes you more confident on the job. Find scrubs designed for modern use that incorporate advanced features. Scrubs made with innovative four-way stretch and high-quality materials are durable enough for any healthcare setting.
Look for scrubs with moisture-wicking properties designed to help your skin breathe and keep you feeling comfortable even during your most hectic days. You'll find exactly what you're looking for with scrubs designed for women. Scrubs meant for your body offer flattering fits and a variety of designs you're sure to love. Work uniforms don't need to be drab or boring when you know how to shop for scrubs that pass the fit test.
Also Read: SAFETY & DEXTERITY: THE AWESOME BENEFITS OF DISPOSABLE GLOVES